Custom keyrings offer a practical and personalized solution for keeping your keys organized while making a distinctive statement. As a manufacturer specializing in bespoke keychains, we understand the significance of distinctive design and top-notch craftsmanship. Our keychains are meticulously crafted to your exact specifications, making them ideal for promotional giveaways, branding purposes, or creating unique personal keepsakes.
 At [Orienstar Patches], we take pride in offering a diverse range of top-quality custom keyrings that can be tailored to your individual preferences. Our keyrings serve not only as functional accessories but also as an excellent platform for showcasing your brand, logo, or a special message. Whether you require promotional keyrings to boost your business or personalized keyrings for gifting, our collection provides a wide array of options. Explore our selection today and see how custom keyrings can seamlessly blend style and functionality into your daily routine.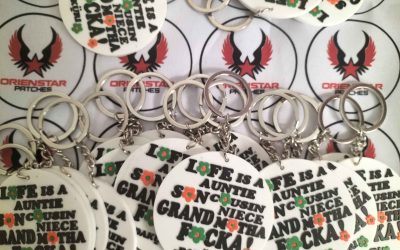 Good Quality and Lower Price
Discover high-quality, custom keychains at unbeatable prices with our manufacturing expertise. As a trusted industry leader, we pride ourselves on offering top-notch keychains that are both durable and budget-friendly.