Welcome to Orienstar Patches, your trusted source for top-quality custom patches. With a strong commitment to craftsmanship and precision, we stand as a leading manufacturer in the world of custom patches. At Orienstar Patches, we understand the importance of personalization, durability, and intricate design when it comes to patches.
Custom Patches Categories
Discover a world of endless possibilities with our wide array of custom patch categories. Whether you're looking for rugged durability or exquisite craftsmanship, we have you covered. Our PVC patches are engineered to withstand the toughest outdoor conditions, making them ideal for uniforms and gear. For a classic, timeless look, explore our embroidered patches with intricate stitching that adds depth to your designs. If you desire a touch of elegance, our leather patches provide a sophisticated touch to your products. Woven patches offer a unique texture and are perfect for fine details. For vibrant, full-color designs, our printed patches are an excellent choice. Finally, our bullion patches exude luxury and are perfect for premium branding. With these diverse patch categories, you have the freedom to customize your patches to suit any purpose or aesthetic, elevating your brand or personal style.
Good Quality and Lower Price
Discover the perfect solution for your custom patch needs – low minimum orders and unbeatable prices without compromising quality. Our custom patches offer exceptional craftsmanship and durability, ensuring your designs stand out while staying budget-friendly. Whether you require a small quantity or a larger batch, we've got you covered.
Create Your Patches With 3 Easy Steps
Step 1. Send us your unique design ideas or example pictures, and let us bring them to life with our top-notch custom patch craftsmanship. Whether it's a distinctive logo, intricate artwork, or a special emblem, your vision is our inspiration. Get started today, and watch your ideas transform into high-quality custom patches that stand out.
Step 2. Share your ideas and preferences with us, and our team of expert designers will craft a digital design that aligns perfectly with your vision. once you receive your digital design, you'll have the opportunity to review it and provide your approval 
Step 3. Our skilled team and premium materials ensure that you'll receive not just patches, but impeccable craftsmanship. Your input fuels our inspiration, and together, we'll create patches that meet the highest standards of excellence.
How To Select The Backing For Patches?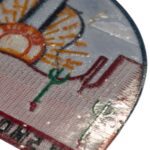 Iron On Backing 
Iron-on patches are incredibly easy to apply. You simply need an iron and a few minutes to attach them securely to your fabric. No sewing skills are required.
Velcro Backing 
Velcro-backed patches are easy to attach and remove, making them versatile for various applications. You can switch patches on different garments or gear quickly.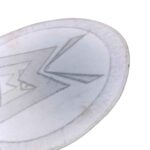 Fusing Backing 
Fusing Patches need to be sewed by hand or with the machine on clothes, hats or bags 
We Make Custom Patches For All Purpose
Custom patches are used by a wide range of individuals, groups, and organizations across various industries and purposes. Here are some common users of custom patches:
Military and Law Enforcement
Airsoft Teams
Corporate Branding
Tactical Gear
Police departments
Scouting Organizations
Motorcycle Clubs
Outdoor Enthusiasts
Schools and Universities
Sports Teams
Emergency Services
Motor Racing Teams
Custom Apparel and Fashion
Collectors
Non-Profit and Charity Organizations
Aerospace and Aviation
Hobbyists and Crafters
Motorcycle Gear
Get Your Free Patch Design Today