K9 Designs And Logos For Free
If are you looking for k9 designs logo for free then you are in here right place, we make these logos and designs for you. You can download it free and edit it for your personal use for Patches or different projects. 
Create Your Custom K9 Patches in 3 Easy Steps
Step 1. Send us your unique design ideas or example pictures, and let us bring them to life with our top-notch custom patch craftsmanship. Whether it's a distinctive logo, intricate artwork, or a special emblem, your vision is our inspiration. Get started today, and watch your ideas transform into high-quality custom patches that stand out.
Step 2. Share your ideas and preferences with us, and our team of expert designers will craft a digital design that aligns perfectly with your vision. once you receive your digital design, you'll have the opportunity to review it and provide your approval 
Step 3. Our skilled team and premium materials ensure that you'll receive not just patches, but impeccable craftsmanship. Your input fuels our inspiration, and together, we'll create patches that meet the highest standards of excellence.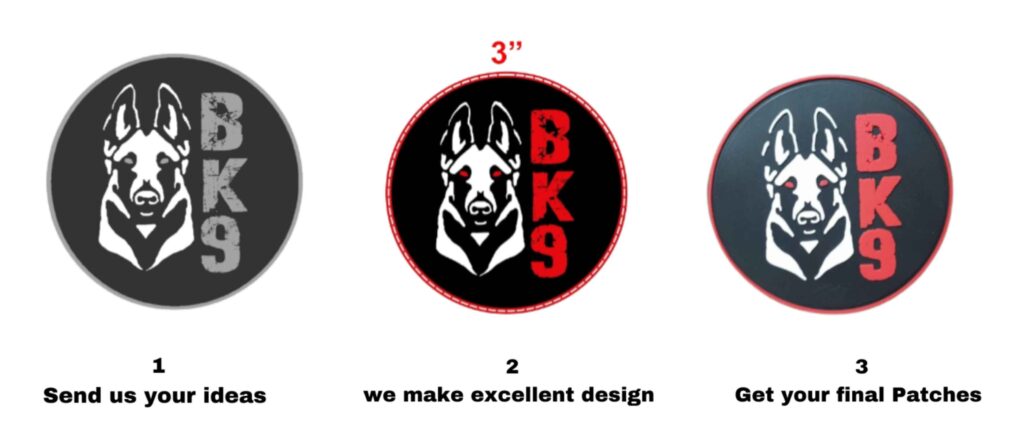 Police K9 Logos And Patches Designs
We create a variety of K9 police designs for patches that you can freely download and customize. These designs come at no cost, and you're welcome to use them wherever you like. If you need more designs or have any questions, please don't hesitate to reach out to us through WhatsApp or our Instagram page. We're here to assist you!
K9 Logo For Business And Organizations
When you need a logo for K9-related businesses or organizations, we've got you covered with free options. These K9 logos are designed to be catchy and visually appealing. They can be a great addition to your uniforms, outdoor gear, or any other branding materials. You can edit it and use for free of cost.
Here are some K9 police logos and designs available for your personal projects and patches. These logos and designs are free to download and use without any copyright restrictions. Feel free to customize and incorporate them into your projects as needed.